The flipping prize
THURSDAY 20TH JUNE 2019, CANNES LIONS
they tried to make me go to rehab
Meet the Sunseeker Predator Yacht called Rehab. And it is a sun-seeker's sanctuary amid the crowds of Cannes. The winners of Flip Off will be invited to spend a day cruising the coastal waters of the French Riviera to the historic town of Monaco, as part of the Cannes Lions Festival celebrations. Sit back, unwind and take in the stunning scenery with an ice-cold rosé or dive into one of the many water sports on offer.
your crew
People make the place. That goes for boats too. You'll not only be joining distinguished guests and representatives from Acquia and Proctor + Stevenson onboard Rehab, but the captain and crew are dedicated to making sure you have the best experience possible. You won't have to lift a finger.
Why not reach out and introduce yourself to your hosts on LinkedIn? Meet Acquia's Jonathan Ergenc and Proctor + Stevenson's Ollie James.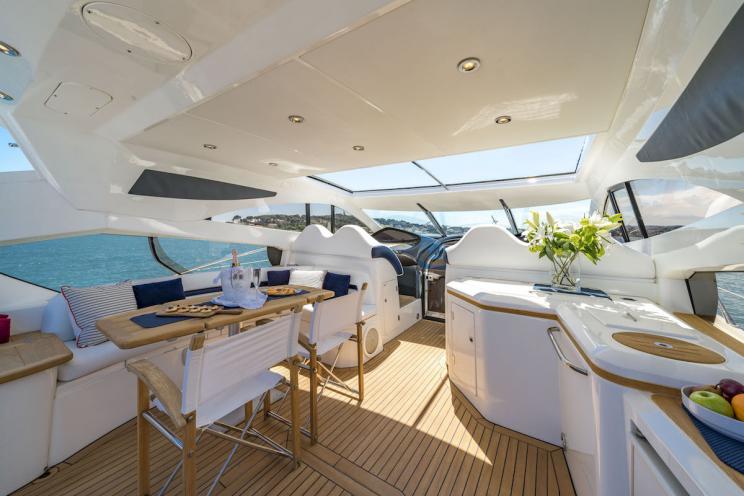 what to expect
Luxury is the order of the day. You'll be setting sail at 9am Thursday 20 June from a secret location in Cannes – and prepare to be utterly spoilt. Swim in the cerulean waters around the magical Iles de Lerins, dive straight into high-energy water sports or just dip your toe in and relax.
WE'LL LET YOU IN ON A SECRET
Monaco is a mere 60 mins from the islands, where an exclusive lunch reservation awaits you at one of the most stunning beach clubs in the area. We can't tell you where. It's a secret – for now.
CULTURE AND CANNES
After lunch, explore the old city of Monaco as you wend your way through historic alleyways towards the picturesque Place Saint Nicolas and Placette Bosio. You'll be back in time to reconnect with the main Cannes Lions event, as Rehab sets sail to rejoin the party scene by 7pm.
REGISTRATION
We have a strict limit on the number of guests who can board Rehab for this exclusive VIP event. As such, we invite you to register your interest.
Registering interest will take you to the free Eventbrite ticket system. This does not confirm or guarantee a place on the boat (despite the confirmation email). But it does give us all the necessaries we need to contact you should you be a lucky winner.
Winners can expect a formal invitation from the team to welcome them aboard and provide any further details (including secret snippets of information).
If you're interested in meeting with any of the team during the Cannes Lions festival, please request a meeting via the Contact Us form.